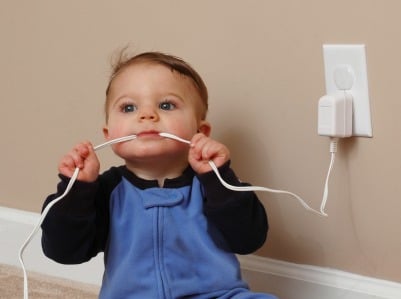 17 Jul

Childproofing Your Home
Childproofing your home is a necessity when you have little ones crawling, climbing, walking and running. Childproofing can be done with a minimum amount of work, and will create the safest environment for your little one. The following is 15 ways to child proof your home to help prevent accidents and injuries.
1. Safety locks should be installed on all low doors and any cupboards that a child can reach. Many parents put safety locks on toilets, windows and doors, as well.
2. Safety gates are another way to make sure your child stays out of areas they are not allowed in.
3. In addition to putting locks on window, it is also important to keep all window cords up and out of the way to avoided accidental strangulation. Safety tassels and inner-cord stops can help keep your children safe.
4. All harmful chemicals, cleaners, perfumes, liquids and powders should be kept of reach to prevent poisoning.
5. Door stoppers can help childproof your home. These can keep young children from catching their little fingers in slamming doors, and can be easily installed on most doors.
6. Smoke detectors are one of the most important safety measures that anyone can take. These should be installed in every bedroom, and in all living areas of the home.
7. Using security systems to keep your family safe should be considered no matter where you live. For more information on surveillance videos, go to
8. Child-resistant outlet covers should be placed on every available outlet.
9. Any home built before 1978 should be tested for lead paint.
10. Lower the water temperature on your water tank to avoid accidently burns from hot water.
11. Protective covers should be placed over stove and oven knobs to prevent them from being turned on by curious hands.
12. Firearms and ammunition should be kept out of reach and in a locked area. Ammunition should not be stored with any firearms, and should be locked separately.
13. Carbon monoxide detectors should be installed throughout the house.
14. Keep large and heavy objects far back on tables and desks so that they cannot be pulled down. This includes TV's, plants, radios and other large objects that can cause harm.
15. Floor grips should be used in the bathtub and shower to prevent falls.